Now for our first designer! Let me introduce to you, Samantha Leibowitz NY! This brand is for the female who is powerful with a bit of sex appeal. The owner, Samantha Leibowitz is also a #GirlBoss, who made a name for herself just 18 months after launching her brand! Check out her inspiring story, behind the scenes of her business and what makes it a brand you need to know about in her interview down below!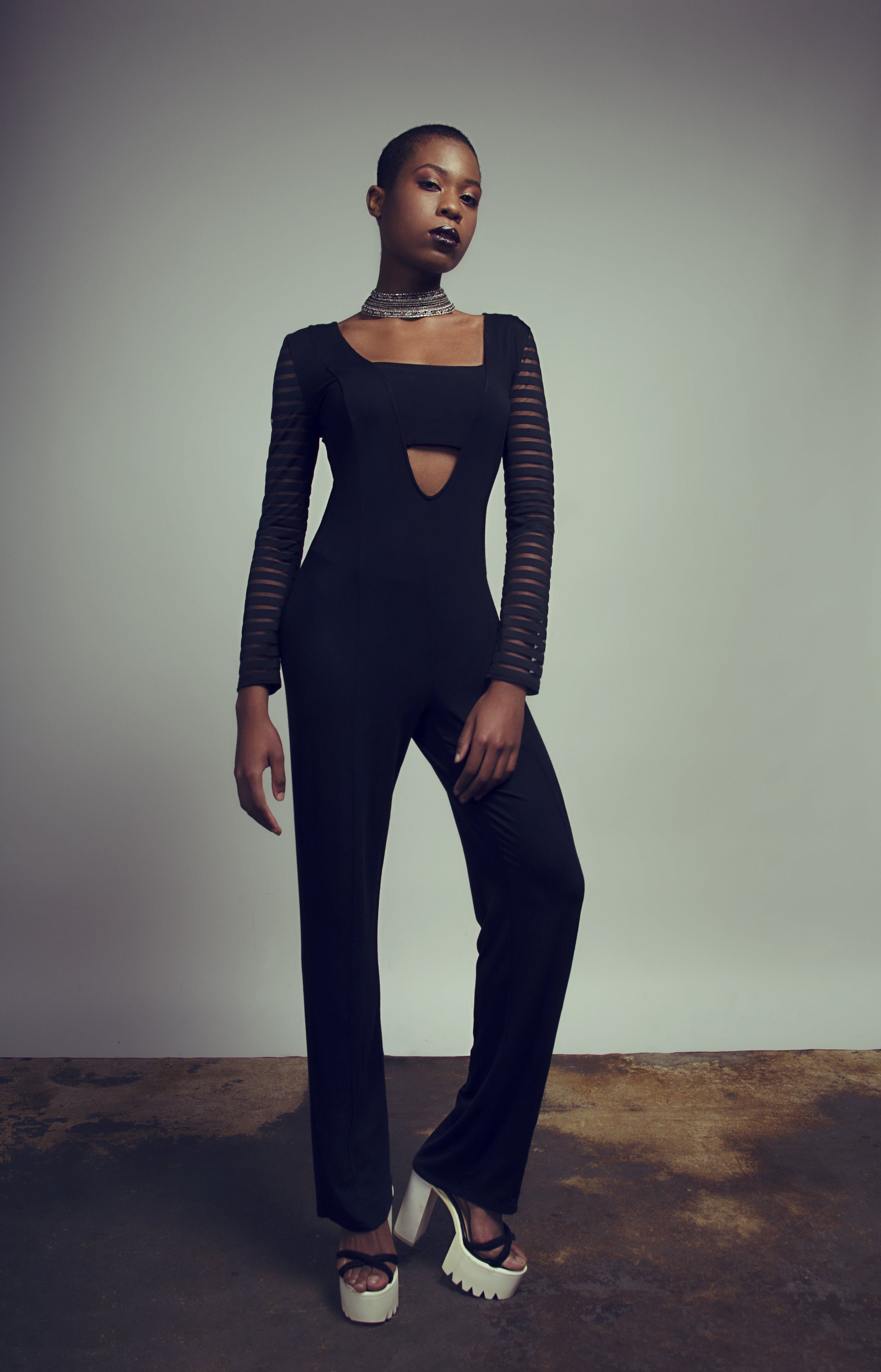 "Never worry about over or under dressing when you are in a little black Samantha dress."
ME: Thank you so much for sitting down with me Samantha. What motivated you to start your own business or to be a fashion designer? What motivated you, inspired you to get started with this?
SAMANTHA: So when I was 5 years old, I fell in love with fashion. I pretty much just love shopping, love styling, everything like that from 5 to 8 years old. My grandmother, I call her the Chanel of Grandmas, she got me into this. She just really was always had the perfect face, almost always dressed, hair and makeup done. And it just kind of pushed me to want to do this.
At 14 years old, I started in the industry. I'm going on my eleventh year now. I worked for 8 different companies before I launched mine. So at 14 years old, I knew I want to do this. So each day I come to work, I was in a different department, whether it was design, color, fabric, and trend, business management… I really made sure I had a well rounding for all of it so that I could launch the company. And then we launched about 18 months ago now.
ME: 18 months, okay. Wow! And you've come so far already. Amazing.
SAMANTHA: (laughing) Yes.
ME: So tell us about the business and your mission. How do you want women to feel when in contact with your brand?
SAMANTHA: So our woman is someone who is bold, independent, adventurous, and a fashion innovator, which should show up on our website a little bit. Our Samantha girl, she's someone who's really out there but also maybe more modest of what they're wearing; they want to be out there but they're trying to be trendy but professional as well.
So our clothing is very comfortable, it fits over the body nicely. We use wovens and knits. All of our products are made here in the US and majority of our fabrics are also now made here in the US, which is awesome. Including our hang tags and things like that. So we're really just trying to help the young adult or the working mom to be able to go to work feeling awesome and feeling sexy in your work clothes but then take off your sweater, go out and your outfit just kind of works all along in one day.
ME: From that, I want to ask, does your client range from 20s, all the way up to let's say 50s or even older?
SAMANTHA: So we have a very large clientele. Our original intention was the working mom in her 30s to 40s of range, however some of our pieces are a little younger. So we do approach the college generation, the 20s to 30s let's say. And then, some of our dresses have even gone to women over 65. For example, our Knox dress, which is on our website has a zip up the leg. Definitely something a little younger. However, I just sold 5 of them to people over 65 years old.
ME: Awesome! That's so wonderful Samantha!
SAMANTHA: Being able to have it as a multi-generational line is amazing. Not everyone can do that and not everyone targets multi-generational, but I feel like if I can target all of these women then all of these women can come shop together and want to experience it as a whole.
ME: Awesome. I love that. Are you currently running any promos, contests, and giveaways for your brand right now?
SAMANTHA: Yes we always have many discounts running, and I can give you a special discount code for your community! We want everyone's first purchase to be 25% off through you (DISCOUNT CODE: styleingenewity25). I want women to get comfortable with the line and know that their going to love it before they spend money on it. It's also totally worth it being made in America and supporting our country.
ME: YAYY! I agree and I'm super excited! Any brand, awards, certifications? What is your biggest accomplishment you would say, perhaps someone wore your brand recently?
SAMANTHA: Coming up soon, with our new publicist, we'll have some big names in our brand, which is awesome. However, Delilah is a musician; she wore our brand at Fashion Week. We had another girl named Brielle, who's a pop star in New York right now. She wore ours at the Fashion Week in the fall. We've basically been pushing at any angle we can. We're all over different bloggers across the US now, even I think some outside of the country too. So that's very crucial for us right now.
Also, I am a certified colorist. I took the Munsell Colorist test when I was with Lilly Pulitzer at corporate. And I am now officially a certified colorist. I also went to school for business management, fashion design, and fashion merchandising. So having all this well rounding and degrees in each one truly helped me get to where I got to today as well.
ME: Awesome. I can most definitely see that. You said your business is based in NYC and Philadelphia right?
SAMANTHA: Yes! So we have one warehouses in Philadelphia, which is where we ship all of our inventory. And then our showroom is here in New York, which is our corporate office. We have people in and out daily. I try to keep the office, I like when people can work remotely as well. So unless it's a team meeting day or any, everyone in here, it's very common everyone gets more job one day, work independently.
ME: Wonderful! Also, not to forget, one of your accomplishments is that you were at New York Fashion Week, Nolcha shows which is for emerging designers…is there any other one that you were apart of?
SAMANTHA: I was in a Rising Star show in our first 8 months of the company in February 2016. And then, I've been with Nolcha for the past 2 seasons now. We've also had other offers for shows this fall. So we are trying to get well rounded as to where we want to be and what the angle is. I've also been in Women's Wear Daily from Fashion Week, Elle Magazine, I've been in New York Magazine twice and probably about almost 50 other press which you can find on or press page too. So it's very exciting especially Elle Magazine that just took one of my hand sketches in. So something so personal versus just our photographs is also a really cool experience.
ME: Wow and that's all in 18 months?
SAMANTHA: Yes, all in 18 months!
ME: Oh my gosh! That's amazing and very inspiring. Entrepreneurship is a wild ride! So what inspired your latest collection though?
SAMANTHA: Modern art. It's not an overly edgy feel but it's a modern art feel with that slight girly edge. We brought in some fringe. We brought in some leather. We're using wine and champagne as our 2 color tones, which Women's Wear Daily actually just announced as fall colors, which is kind of cool that ours were almost so identical.
ME: Was that kind of like a trend prediction would you say on your end? The colors?
SAMANTHA: Yes. I go to lots of different conferences all year round, finding out like what's the next big thing? Few years ago, it was the 70s jeans. And different things like that are coming back out. So I knew that fringe has been something that's ongoing and people are just very obsessed with it right now. It's just awesome. So we brought a little of that. And I just kind of wanted some warm fall colors. I tried to do a lot of black and white prints. Everyone likes this classic feel, but you need a little pop of color. So that's how we kind of brought them in.
ME: Definitely! And what are your retail price points? Kind of what they range from? The lowest to the highest.
SAMANTHA: Our stadium purse I believe is around $45.. that is just a clear purse they can take into the stadium so they pass all the rules. But I'd say our prince range is probably around the $80-$220 range. A few items under $100 but mostly in the $100 to $200 range right now!
ME: Got it!! How would you distinguish yourself from competitors? I often don't use the right competitors a lot because we are very unique on our own, But how would you distinguish yourself or set yourself apart?
SAMANTHA: I think that not every company thinks about the silhouette and the body types. I think that everyone naturally thinks about their models, tall lean versus everyone has curves or different features of their body.
I am very cautious that for every piece that is for the tall lean look, there is the wide look as well, making things more in the knit fabric so that people are comfortable. We've have taken some of our gowns and turned them into knitwear gowns.
I think that's been a huge thing that no one does this, that's probably the first thing everyone tells me. The feel of our fabrics and the shapes and silhouettes are what really drives them to buy because they are comfortable to wear over everything.
ME: I really like that. I hear this often too from plus size women who cannot find anything at all. None of my clients can find anything flattering enough in the beginning, So I find fresh new brands to introduce them to.
SAMANTHA: And we go up to, size 2XL, which most companies do now as well. So we do extra small to 2XL because I want to hit that. As much as I would love to have everything for everyone, it is a different shape of the body; so by going up to 2XL, I am at least hitting the lower point of plus size so many clients can purchase in that manner.
ME: I love that. That's wonderful. What is your best testimonial so far that you have received?
SAMANTHA: (laughing) We have so many! I do have a testimonial page on our website though from our clients, the only people that go on our testimonial page. We will not put celebrities, the only people there are true clients that emailed us their photos and said "Thank you."
It's very inspiring when they feel the need to send their photo to me and say "I felt like the most beautiful person in the room tonight." I had a woman who was a 2XL. She wore one of our dresses to a wedding and she literally sent me the picture before she even got to the wedding to tell us how amazing she felt. And, I love seeing that.
I don't care if it's tons of junk coming in. It's so exciting when someone lets you know how comfortable they are. I've got emails even too but it's very exciting when someone sends a picture and says "Please add me to your testimonial."
ME: Truly heart warming! And what advice would you give to women about dressing? You kind of talked about that a little bit. Dressing to flatter their shape, or finding their personal style?
SAMANTHA: You have to be you. You cannot just wear a style because that's what's trending right now. You have to be comfortable in what you're wearing. If you're not comfortable, you're going to be miserable the rest of the day. If you are feeling bloated and you really don't want to be in something fitted, throw in a fitted top with some baggier pants then, or vice versa. Make it so that you're comfortable that day because that's the worst feeling in the world.
Dressing to your body type is very difficult for people because everyone wants to be in that very lean look and it's very hard. And I think that you have to research it a little bit too and go online and look at other people that are of the same shape and size as you because you'll see what styles work really well. For example, I have a drop waist top but drop waist is something I personally cannot even pull off because my rib cage isn't long enough for it.
So if you are someone that has a longer rib cage that might be an awesome top for you. And I think that's another thing with designers, not a lot of designers design with their body type in mind, whereas I can't do that. I want to be able to wear as many of my pieces as I can and show them to everyone, but you have to be able to dress your clients, and that comes first. So I would say body conscious is the biggest thing.
ME: I definitely agree. What awesome quotes do you live by? Either fashion related or just life quotes.
SAMANTHA: I have a few. Well, my first one is my quote and this is trademarked across the country now, and outside the country. "Never worry about over or under dressing when you are in a little black Samantha dress." Our signature piece is the Samantha dress. It's a black maxi dress that you pull the drawstring and it raises to different levels.
So taking that quote that doesn't just mean a little black dress, that just means anything that you feel sophisticated in, you're comfortable in; that look that makes you think of the little black dress. I had a lot of people when I first launched that quote with our website, feel that I was specifically talking about a little black dress. And I know it comes off that way, but it's much deeper than that.
You want to dress for you, like we're saying, and be comfortable in what you're wearing. And to do that, you have to know, you have to think of the little black dress idea. That's the mindset of all women – "Oh I'm going to go buy a little black dress." Well, think about how you can turn your outfit into something else with the mindset of a little black dress.
ME: Yes, okay. I love that. That's really good one. And lastly, What are your goals for your brand? Where do you hope to take it possibly in the next five years I would say?
SAMANTHA: Currently, we are trying to branch into department stores. That is my next biggest priority. We're in specialty stores and boutiques across the country right now. But I also would love to drive websites, which is something that's really hard to drive people to and we've had an awesome experience.
That is our main outlet right now and I want to find new ways to drive people to it, not just the typical ways that every other store and buyers are working with. I want to really figure out how, because each generation is different too. Whereas Instagram, I feel we have a much younger clientele commenting on it. On Facebook, I feel we have more of the mom clientele. So figuring out how to make all of these social media outlets for sales to be almost identical in how you sell to them.
We're looking at large department stores. I feel that our line can definitely make it there. We have some unique pieces and that's the whole thing, you want to be unique. Our Samantha Dress is the only dress that comes out every season in the newest colors and prints because it's unique. And that's something that I think would be awesome in a department store because it's very versatile where people can wear it literally all year round, for example. I've had again people from 20 to over 65 wearing this dress. I think we even have people younger than 20 in it. And it's just an awesome way to show our creativity and kind of push forward on that.
ME: Loving the sound of that and wishing you all the best! Well this interview has been nothing short of amazing. Thank you so much!
To find out more about Samantha Leibowitz NY and visit their website, take a look below:
Website: www.samanthaleibowitz.net Use Discount Code: styleingenewity25 to get 25% off of your first purchase!
Instagram: @samanthaleibowitzny
Twitter: @SLeibowitzNY
Facebook: Samantha Leibowitz new york
LinkedIn: Samantha Leibowitz new york