It's Summer time! The season for sun bathing and taking a dip at the beach! I was shopping for one of my clients recently and gave her an entire rundown of how to choose the perfect swimsuit specific to her. And I thought to myself, how many other women are out there struggling this season with swimsuits? Even more nerve racking, is shopping for one online vs. In store So here is a no fluff, step by step guide on how to shop online for a great swimsuit.
Step 1:
No matter what you are shopping for online, it is always helpful to know your measurements first. Step 3 will explain why.
Take measurements for your BUST, TRUE WAIST (an inch above your belly button), and HIPS!
Step 2:
If you haven't chosen a specific store you'd like to shop from, with your measurements in hand, do a google search! If you have a specific problem area, search for swimsuits using words/phrases based on solving that problem. For example: "swimsuits for a longer torso" or "swimsuits with bust support" or Petite swimsuits, high waist swimsuits, tummy control, plus size swimsuits, full coverage bikini bottoms. Any of those words will do when attached to the word swimsuit. This helps you to find stores and swimsuits geared towards what you are looking for.
Step 3:
When you find an online store with an item that you like, check your measurements against their specific "size guide" chart to pick the correct size. This chart is usually directly under the item and will have number (2, 4, 6) or letter (S, M, L) sizes and the measurements that usually coincide with each size.
Step 4: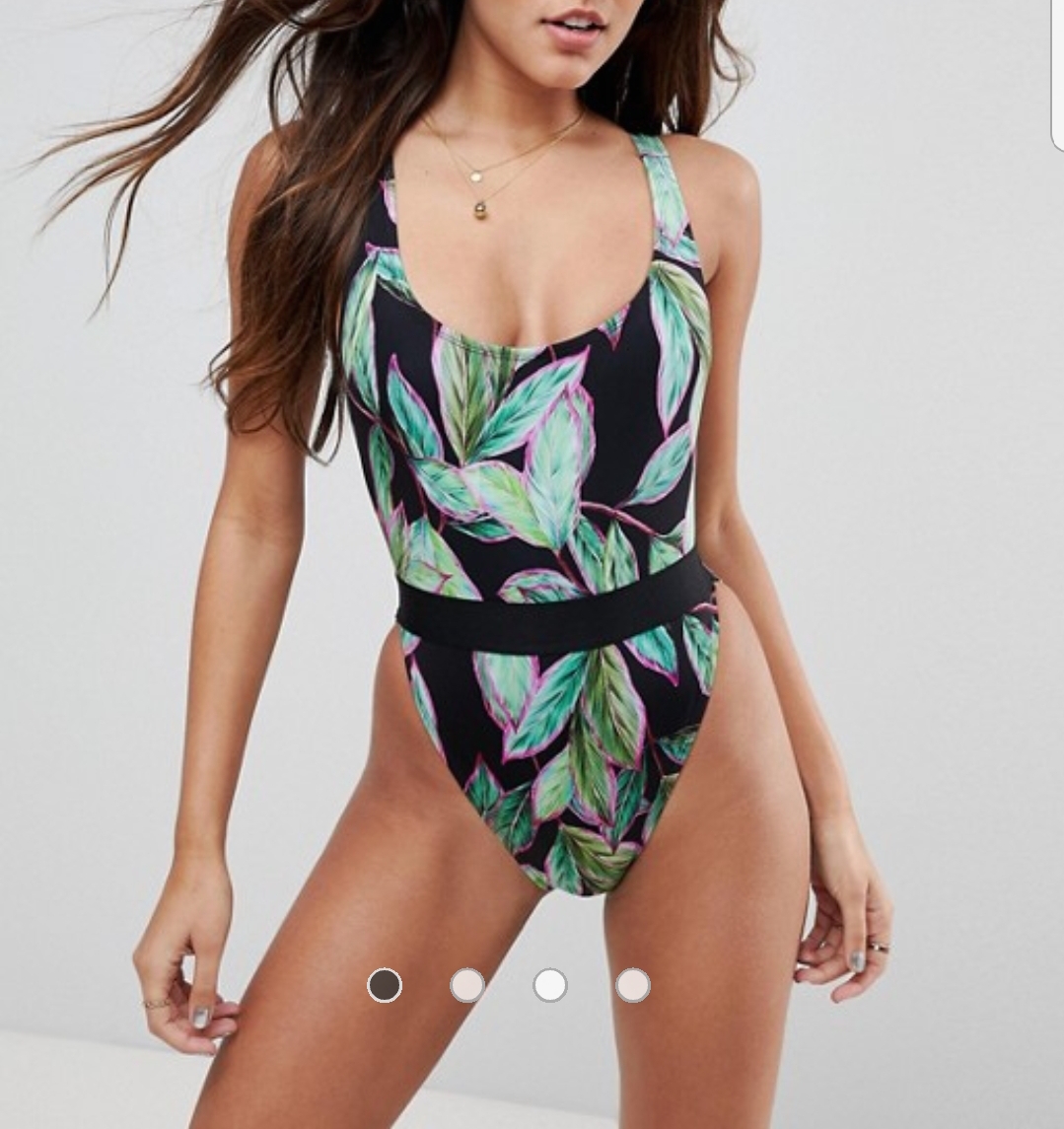 Be aware of trends that you may or may not want!
For example the retro "high leg" trend is really popular right now and gives you a sexy, cheeky effect. Think baywatch babe kind of swimwear. Usually the product description notes that this is the style but I've noticed that sometimes it may not. An exaggerated high leg is much more noticeable than a subtle high leg. So keep an eye out. On the other end of things, a "brief fit" provides more coverage if that is what you prefer.
Step 5:
Speaking of coverage, if bikinis sound a bit scary for you or you are just not there yet in terms of comfort level, opt for a sexy one piece, either a classic style or one with cutouts (another trend). Another option would be to go for high waist mix and match bikinis instead of a one piece (they give you added coverage but still have the bikini feel). Feel free to also go for high waist separates if you have a long torso and cant seem to find the right length one piece. This combats the length issue since they are separates.
*Pro-tips:
#1 If you are ever stumped between 2 sizes, choose the bigger size. Sizing up is usually always the right way to go because if something ends up being a bit bigger in size, it can be altered to fit rather than being too tight and not having enough material to alter.
#2 If you are ever confused about a specific store's sizing chart in regards to your measurements, check the reviews if there are any. Sometimes sizes may seem confusing or a bit off depending on where the garment was made.
Here's a look book list of some of my favorite swimsuits that I found online ranging from plus size to straight size! You'll also find a few that work well if you are tall (long torso) or petite (shorter torso). Click the image below.
So excited to hear what you think, leave me a note or questions in the comments.